Upgraded Meat Thermometer Wireless Digital Bluetooth
The wireless smart meat thermometer
With the wireless kitchen thermometer, you can enjoy cooking. Whether steak, chicken wings, or poultry, every piece of meat becomes fresh and tasty. The wireless Bluetooth connection of the kitchen thermometer can be up to 50 meters.
Note: The actual distance may be affected by physical obstacles and radio interference.
Professional app
To use the wireless kitchen thermometer, you need to download the app 'Probe Temp', which monitors the temperature of the food remotely and in real time and notifies you at the optimal time. Bluetooth version 5.2 is stable and safe, perfect for Android and iOS devices.
Accurate sensor
The stainless steel sensor measures the temperature range from -40°C to 100°C with an accuracy of ±1°C. Whether you are a beginner or a professional, the grill thermometer will help you prepare the perfect meat. Note: Please avoid immersing the meat thermometer in water for a long time.
Easy to use
5-10 minutes charging time, 4 hours of use. The app provides 9 preset temperatures for different types of meat or you can manually set your preferred temperature. All you have to do is select the food you want to cook, and when the time has elapsed, you will receive a reminder on your smartphone.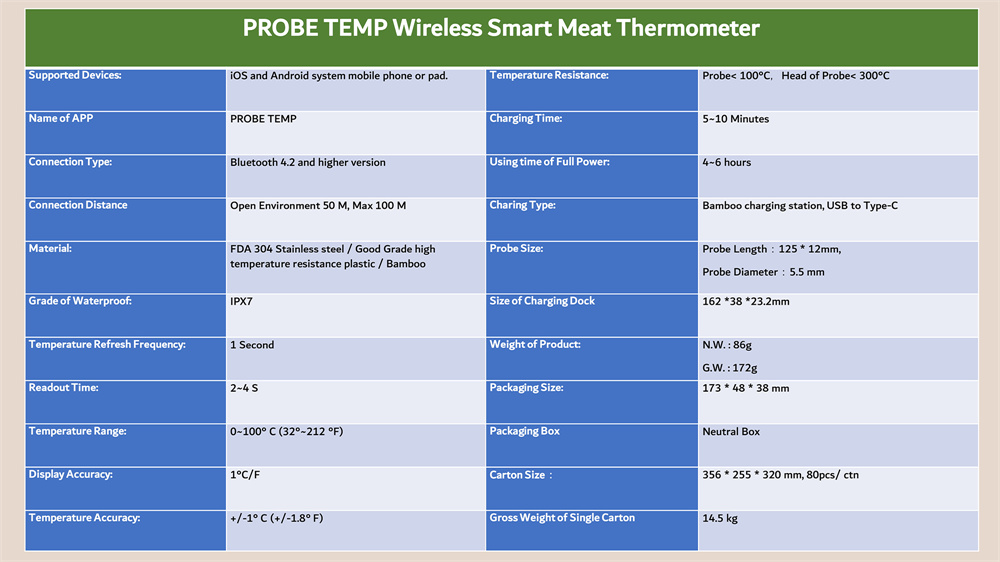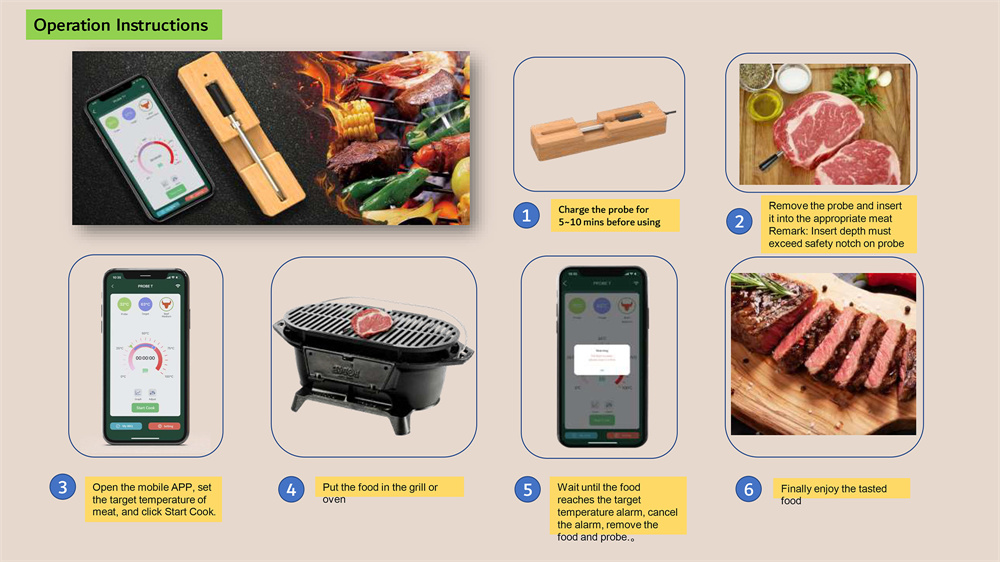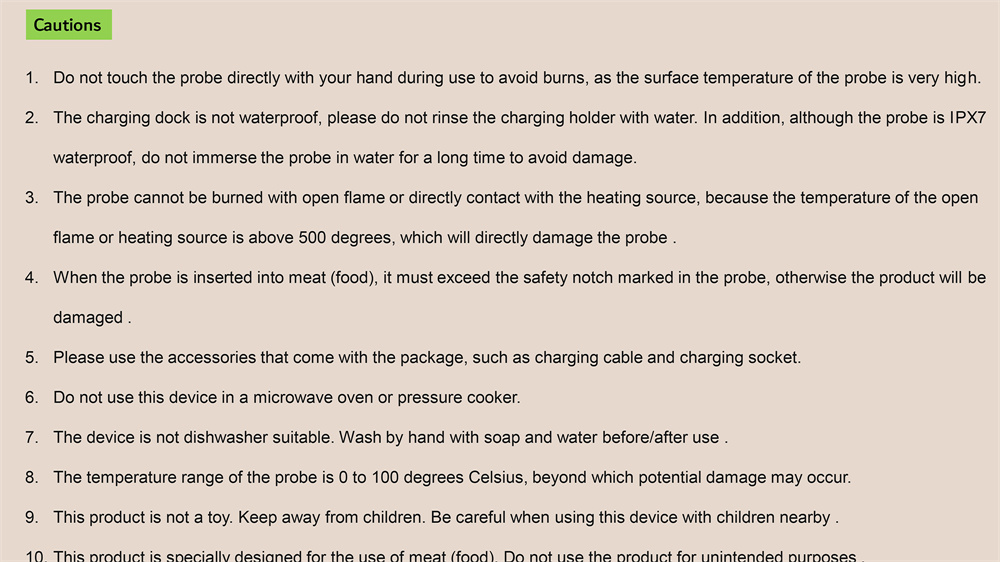 Specifications:
Supported Devices
iOS and Android system mobile phone or pad
Temperature Resistance
Probe< 120°C,Head of Probe< 320°C
Name of APP
PROBE TEMP Charging Time: 5~10 Minutes
Connection Type
Bluetooth 4.2 and higher version Using time of Full Power: 5~6 hours

Connection Distance Over 30 M, Max 60 M

Charing Type
Bamboo charging station, USB to Type-C
Material
FDA 304 Stainless steel / Good Grade PEEK / Bamboo
Probe Size
Probe Length
125 * 12mm
Probe Diameter
5.5 mm
Grade of Waterproof
IPX7
Size of Charging Dock
162 *38 *23.2mm
Temperature Refresh Frequency
1 Second
Readout Time
2~4 S
Temperature Range
0~100° C (32°~212 °F)
Display Accuracy
1°C/F
Temperature Accuracy
+/-1° C (+/-1.8° F)